Area Rug Pick-Up vs. On Site Cleaning in Brooklyn
Feb 09, 2015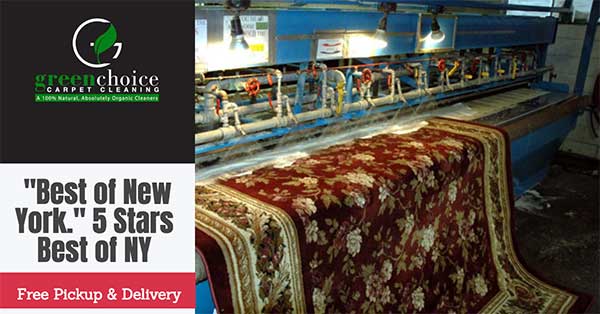 Many of our clients in Brooklyn wonder which is better for their area rug- to have it picked up or cleaned on site. At Green Choice
Carpet Cleaning Brooklyn
we offer both options depending on the type and condition of the area rug you have. Some rugs can be cleaned on site with absolutely no problem but others require special attention because of their delicate fibers. If you have wood floors in your home we at Green Choice Carpet of Brooklyn definitely recommend for your area rug to be picked up in order to avoid damage being done on your wood floors.
Which Option is Better
As I mentioned above, it really depends on the condition and the type of area rug you have to determine whether it is better to have it cleaned in our factory or on site. We at Green Choice
Carpet Cleaning of Brooklyn
understand that having your area rug professionally cleaned on site saves time but sometimes it is not a good idea. If you have an expensive silk or Oriental area rug or an area rug that has very delicate fibers it is best to have it picked up and brought to our factory in Brooklyn to have it cleaned. Depending on the condition of the area rug and what exactly needs to be done the technician will recommend a cleaning process and explain in detail what exactly the process entails. After this he will pick it up and bring it to our factory where we will carefully inspect it and start the cleaning process. We do have special processes that require pool wash and deep pool wash. This process will require your rug to be submerged in a pool to make sure it gets a thorough cleaning. We also have hand wash service for extremely delicate area rugs which is also done in a pool. After the cleaning process is done the area rugs are hung in a temperature and humidity controlled room to dry. When they are completely dry they are wrapped up and prepared to be delivered to you.
On Site Cleaning
Onsite cleaning is another option that Green Choice Carpet Cleaning of Brooklyn offers for our customers. If you have a machine made rug that needs refreshing and it is only lightly soiled we can clean it on site for you. Our technician will inspect the area rug upon arrival and will let you know if it can be cleaned on site. We perform the cleaning with our highly professional steam cleaning machines that are portable and the size of a regular household vacuum cleaner. After we are finished with the cleaning process your area rug will be slightly damp and it will take only a few hours to dry. The fresh air will help speed up the drying process. On site cleaning is recommended if you don't have the time to have the rug picked up and if its type and condition does not require any special treatments. As I mentioned in the beginning if you have wood floors on site cleaning is not recommended in order to avoid damage to your floors. In case your area rug has stains, color damage, water damage or high foot traffic wear then we at Green Choice Carpet Cleaning of Brooklyn recommend your area rug to be cleaned in our factory. We offer free pick-up and delivery for our clients so call us today to find out more about our services and specials on
area rug cleaning in Brooklyn
.